Private Events at Harmony Meadows
A Jewel of a Destination
Calm the spirit and inspire the mind while you foster positive company culture. The casual elegance of Harmony Meadows makes every event a celebration, from intimate to huge, from family to corporate. Between the orchards and mountains, breathe the air of relaxation and discover…Life in balance is Harmony.
Harmony Meadows will provide everything you envision for the unforgettable. Onsite amenities and off-­site recreational opportunities abound at this jewel destination within driving distance from Seattle.
Start Planning Your Event
Event Spaces
With 36 acres of grounds, our venue offers a 6,000 square foot event hall, intimate room options, and multiple outdoor meeting sites for presentations and meetings.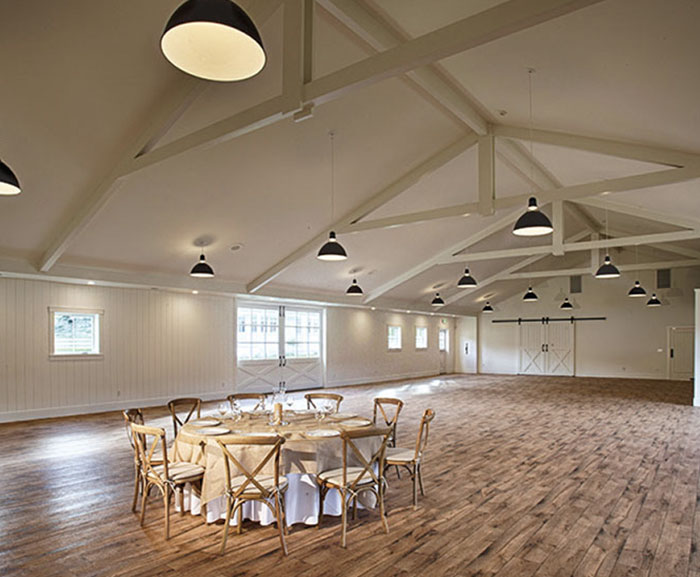 Event Hall
The Great Hall can be as elegant or casual as you desire. Accommodating up to 250 people, the natural light and the flexibility of open or closed barn doors will make your group feel part of the uplifting landscape.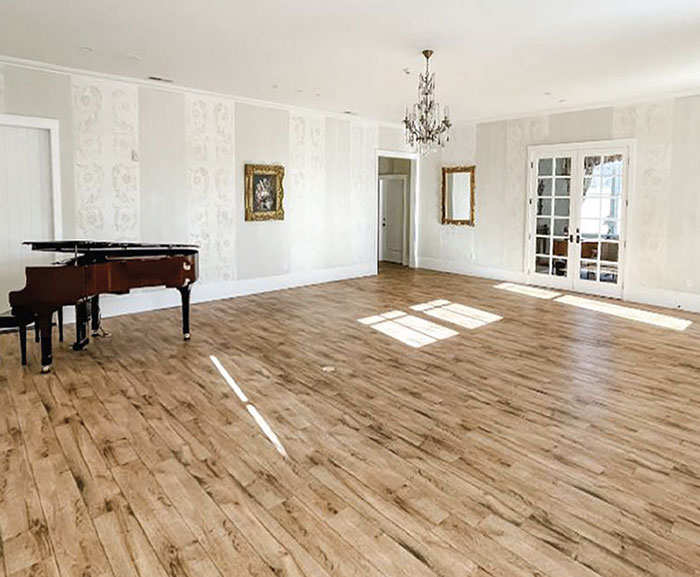 Salon
A grand piano and rock crystal chandelier await you in The Salon for a touch of luxury and glamour. A perfect location for an indoor cocktail reception or private dinner.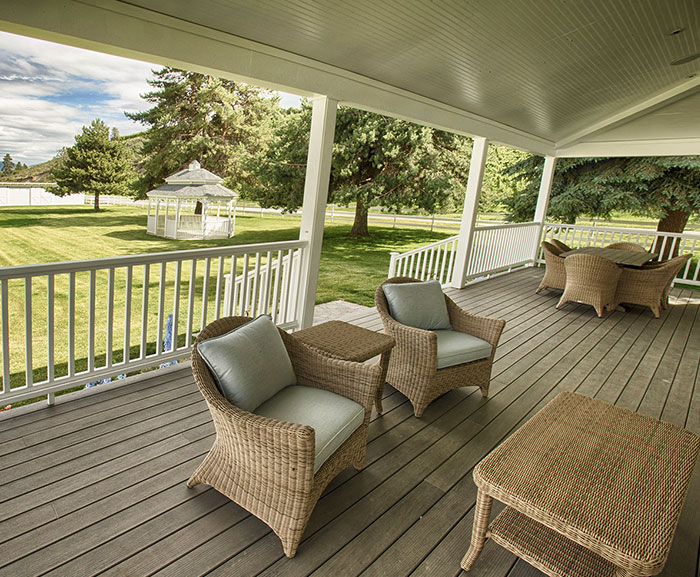 Spaces at the Inn
Feel at home in the living room of the Inn for an intimate discussion or sip some freshly made lemonade on the generous covered back porch. Both are welcoming locations to make your team feel relaxed and at home, bringing out their very best.
Accommodations
Our Life In Balance philosophy begins with immersing you and your team in the opulence of our three categories of accommodations, totaling thirteen unique suites. We invite you to discover which lodging options will enable you to breathe, relax, and enjoy the surroundings and bring you closer to Harmony.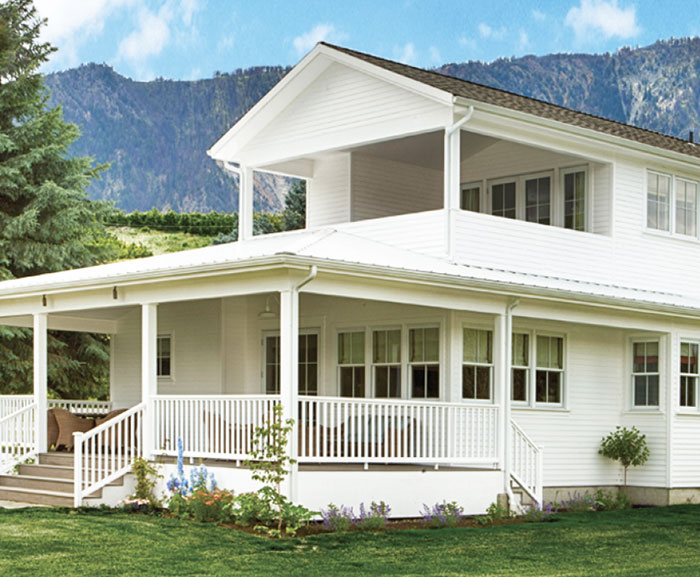 The Inn
The Inn has three en-suite unique rooms adorned with cozy robes and slippers, plush Matouk towels and bedding, sanctuary-like marble bathrooms, and hidden televisions comprise. The common areas offer event attendees a convenient and luxurious space to relax and unwind before and after their meetings.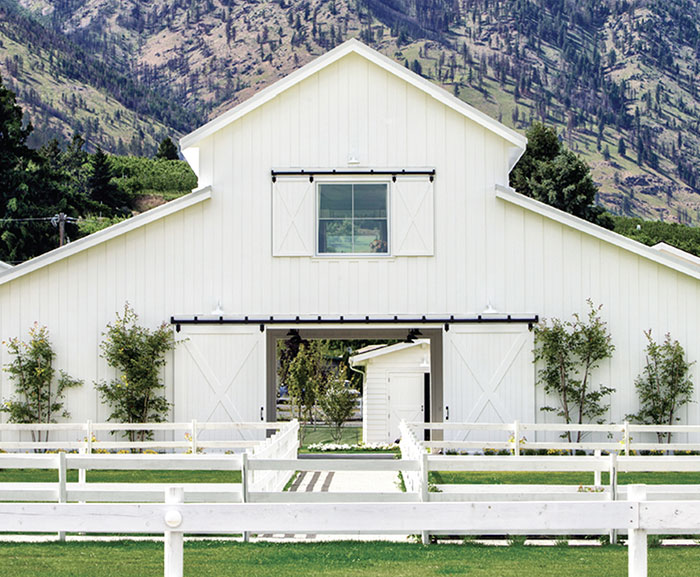 The Hayloft Suite
Airy and sunny with a casually elegant, cottage-style interior, this suite offers privacy with separate sleeping rooms and a shared sitting area. One nook has a king bed with a television and there are two additional bunks with queen beds. There is also an additional queen sleeper sofa in the living room. All guests are served by the two full baths and generous shared closet space.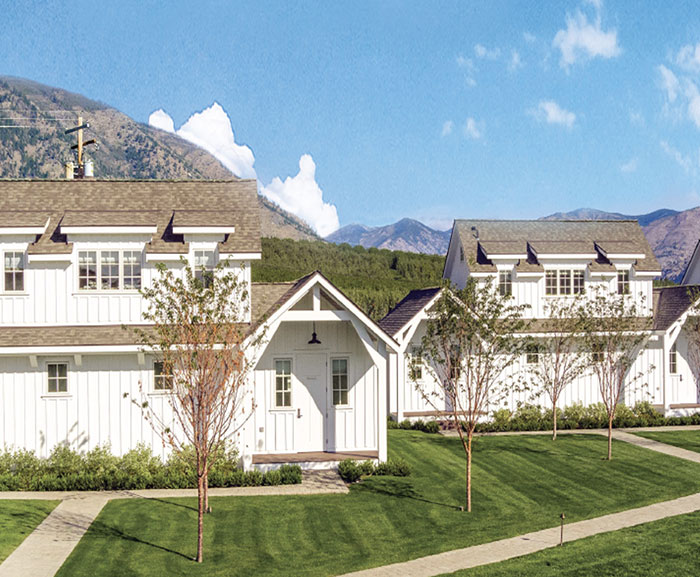 The Cottages
Experience the sounds of the valley's natural wildlife while surrounded by luxury in one of our nine Cottage suites. Offering the most privacy of our accommodations, four of the Cottage suites are double queens, two are standard kings, and the top floors boast premier king suites with queen pull-out sofas. Each suite is uniquely created to capture the essence of our aspirations: serenity, prosperity, tranquility, and serendipity.
Amenities
Discover all the amenities at your private retreat while you build the bonds that maximize collaboration, leading to innovation and productivity gains. With more than 36 acres of grounds nestled between the orchards and the mountains, serenity and relaxation await.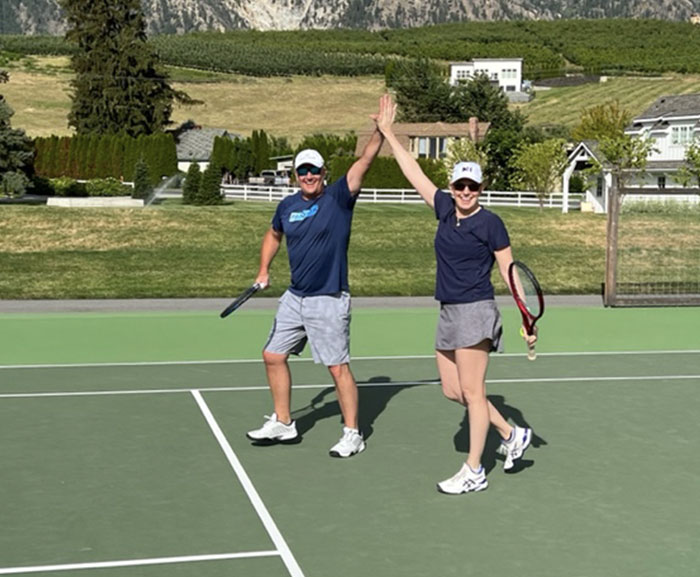 Come Create a Racquet
Our world-class tennis center is ideal for hosting a friendly competition. Bolster team building and a competitive spirit with racquet sports on our tennis and pickleball courts.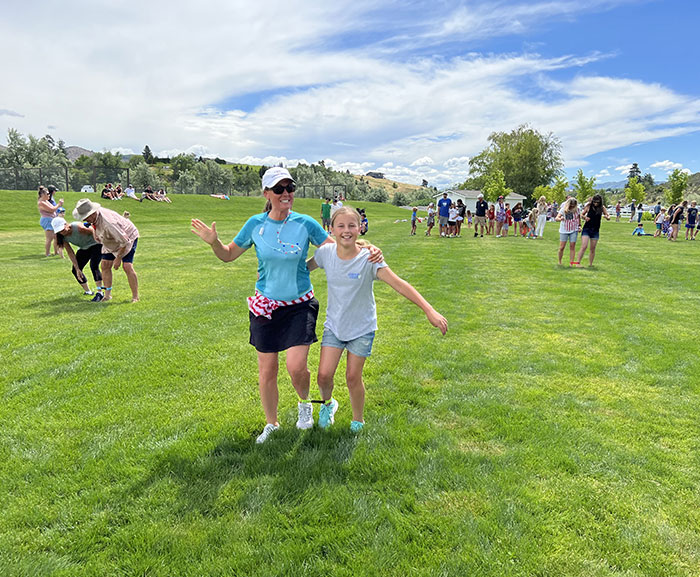 Laughter is the Best Medicine
Play lawn games, old-fashioned outdoor party games, Petanque, or gather around the fire pit for stories and conversation.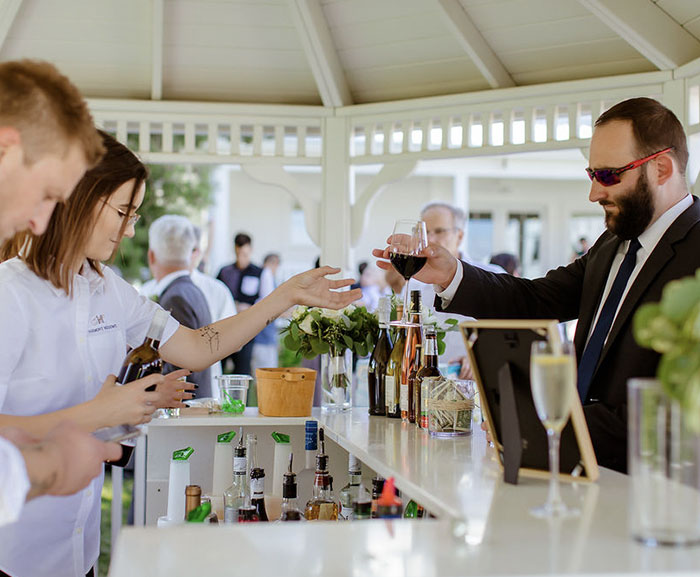 We Cater to Your Every Whim
Create a dining experience to be remembered. Let our culinary creativity combined with your vision assist you in planning your unique menu. Whether you are looking for snacks during the day or a multi-course dinner, you'll be sure to experience the seasonal bounty of the Chelan valley.
Breathe, Relax and Enjoy the Great Outdoors
You can't come to the lake without a little outdoor adventure. Get your group out of the "Bored Room" with a host of fun, exciting activities that build team spirit and foster camaraderie. Whether on the lake, at one of the many wineries, or in nearby National Forest land, there are many ways to open minds in the great outdoors.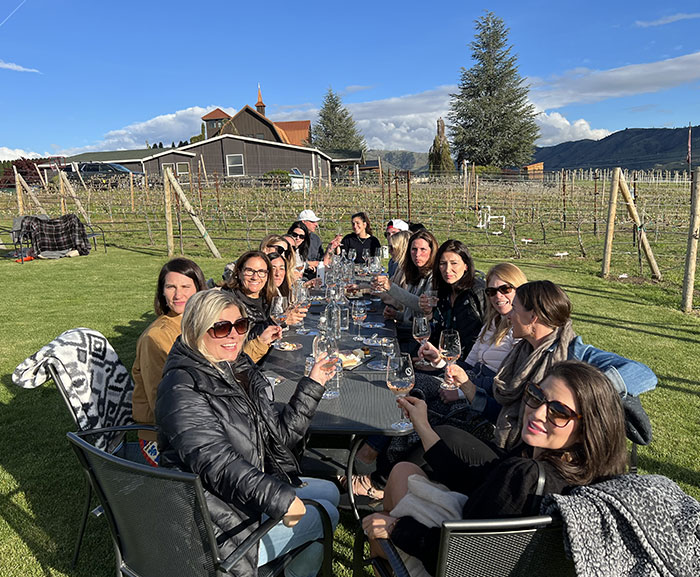 Explore by the Glass
With dozens of wineries in Manson and Chelan, there are plenty of places to explore. Whether you appreciate the efficiency of walking to the tasting rooms of several wineries in downtown Manson, or you prefer to visit the vineyards themselves, we can help connect you with our wine-making neighbors.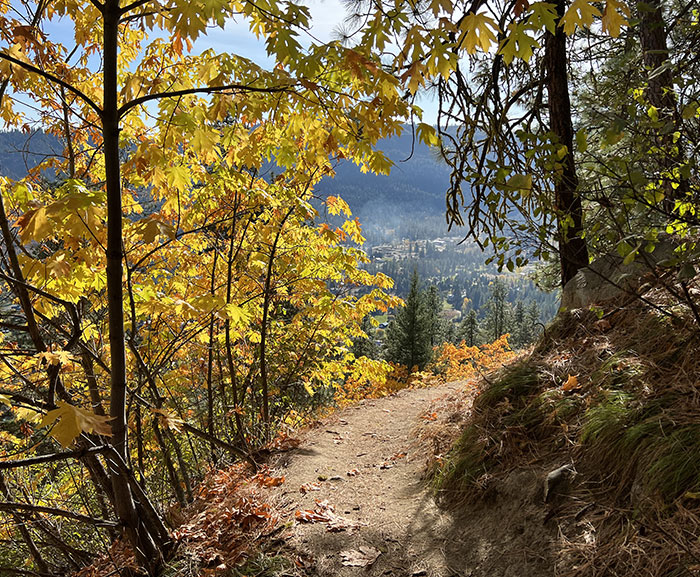 Explore by Foot
Just 8 miles from Harmony Meadows is the Echo Ridge Trail System, with over 26 miles of trails, offering something for every ability. In winter, cross-country ski trails are groomed for both skating and classic. Bring your mountain bike for fun rolling rides with fabulous views in the summer!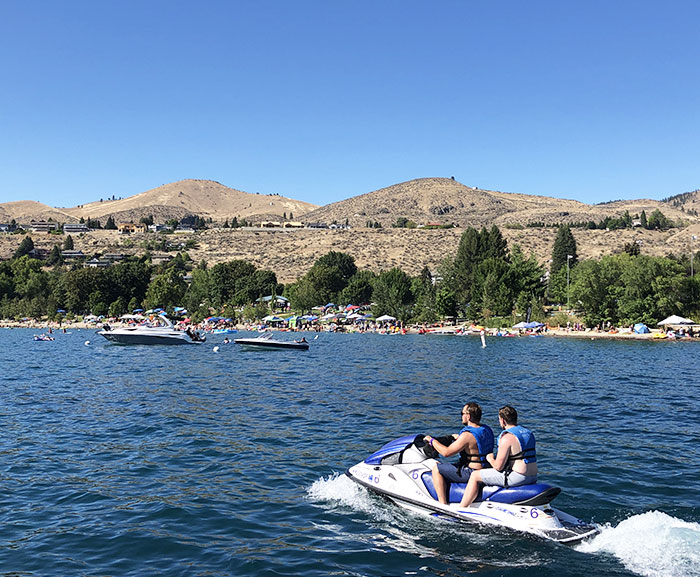 Explore on Water
Lake Chelan offers an abundance of ways for you and your team to play including kayaking, jet skiing, fishing, or water skiing. Take your team to ride the Lady of the Lake for a 50-mile day trip to explore Stehekin and North Cascades National Park.
Eliminate the complication and added expense of air travel by escaping to this hidden gem near Lake Chelan, just a three-hour drive from Seattle. No air travel, just a luxurious but casual resort for you and your team. Harmony Meadows is both escape and discovery, a jewel destination. Let the beauty of our surroundings revitalize and inspire your hard-working team.
Call or email us to discuss your corporate
retreat at Harmony Meadows today!