5 Things I Would Change About My Wedding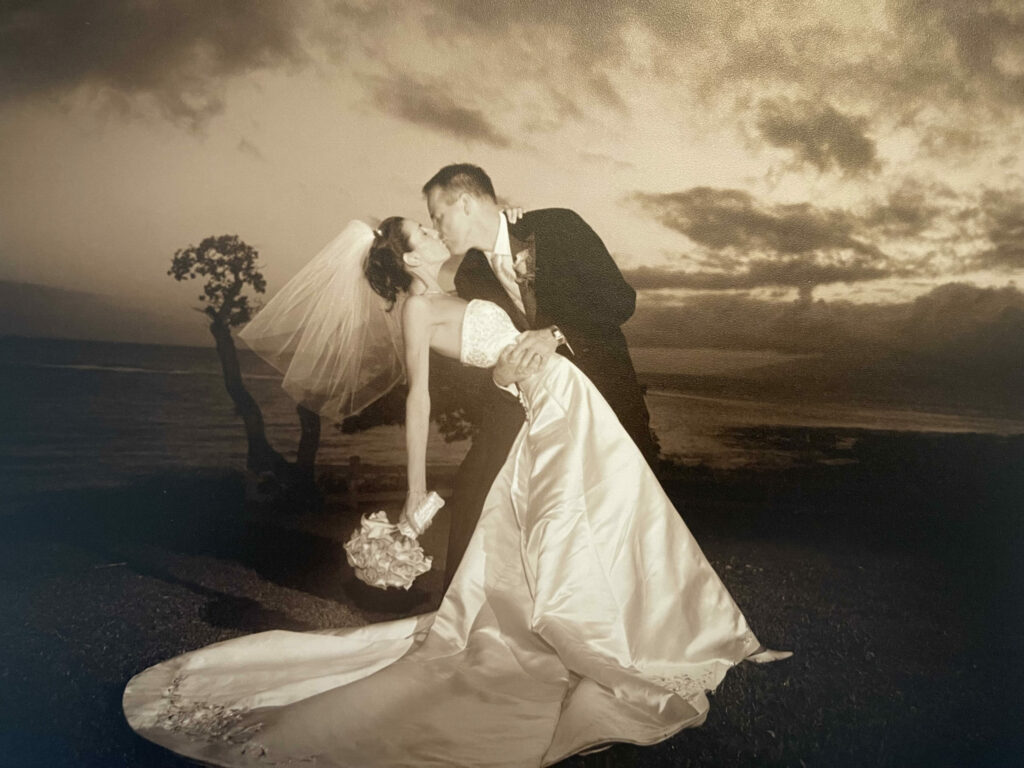 As the owner of Harmony Meadows Resort, I have the privilege of being part of a couple's most important milestone – their wedding.  This is a memorable moment in one's life; a day filled with a rollercoaster of emotions from joy, love, stress, anxiety, tears, and giggles.  Couples today have countless inspirations from the internet and social media.  I sympathize with our couples because the options are limitless, how do they choose?  I always suggest they set their priorities and expectations at the beginning of the planning process, and sometimes even share the stories from my own wedding.  
I'm not sure I would do it again, but if given the opportunity to go back in time to my wedding 20 years ago, here are the five things I would change about my wedding.
ONE: First look
Where did the concept of a first look originate?  It has been a long-standing tradition in many faiths and cultures going back to the day of arranged marriages to not see the bride for the first time until she walks down the aisle.  You wouldn't want the couple to see each other prior to a wedding and have the chance of backing out?  As a traditionalist, I did not have my groom see me prior to the wedding.  We even stayed in separate hotel rooms, so that I may be "re-virginized."  We planned on having an outdoor ceremony in Hawaii, but the day of our wedding it poured.  Torrential rain all day.  I really wanted to see my husband so we could figure out a solution together since we did not have a plan B.   We ended up getting married in the restaurant – not ideal, but we did in fact get married.

The other big issue with not doing a First Look was that as soon as we were married, we were whisked off for over an hour to get photos taken.  I hadn't seen my groom all day and the first chance we had alone was with our stage-directing photographer.  It was not relaxing, I didn't have a chance to talk to my groom, and I missed the chance to cocktail with our guests!  I really do hate to miss a good party.  By the time we were done with photos, our guests were moving into dinner.  I really regret not having that time to mingle with our guests and thank them for coming out for our destination wedding.
TWO: Maid of Honor.
My groom and I decided just to have one person each in our bridal party and a dear friend's daughter to be our flower girl, but I really struggled with trying to decide who I wanted to be my Maid of Honor.  I moved around quite a bit as a kid, worked through college and didn't join a sorority, and there weren't any appropriate family connections, so I didn't have a lifetime relationship who was an obvious choice.   My dearest and best friend was nearly the same age as my mother, and she is who I really wanted to pick.  However, I was worried that my mother would be insulted and that it wouldn't "look right."  I really do give myself an eye roll for that one since in your 20's you really care about things like that and today I couldn't care less.  I ended up picking a new friend that I had known less than a year.  Regrettably, I didn't know enough about this person to know that she was struggling with her own marriage, was deeply jealous, and was more interested in the free trip to Hawaii than being a supportive friend.  A few of our guests heard her complaining to her husband that I had the audacity to asked her to help zip and secure my dress.  Needless to say, that friendship ended before the night was over.  The most important thing you can do on your wedding day is surround yourself with those who truly love you.  It doesn't matter how old they are, what gender they are, how they "look" compared to your other party members, or even if they are capable of throwing you the bachelorette party and bridal shower of your dreams.  All that matters is that you are loved and surrounded by people who will make the day a memorable experience for you and your spouse.
THREE: Cake.
I know I said that you should set your priorities, but understand there are limitations.  There were two things I wanted in my wedding: a string quartet and a huge cake.  Even though our wedding was small, I wanted an enormous wedding cake.  I love sugar, especially cake with buttercream frosting.  I met with several bakers and finally found one who made delicious cake and said she was confident she could make the cake I described.  (Remember, no Pinterest in those days.)  I was extremely specific about each of the four layers, and I wanted the frosting embellishments to match the embroidery on my dress.  The bottom layer of the cake was specified to be white cake so that when we cut into it and fed each other pieces, there wouldn't be chocolate crumbs all over.  Would you like to know what happens to a buttercream frosted, four-tiered cake when there is a nine-hour squall in Hawaii?  The humidity is insane and buttercream frosting melts.  The embellishments no longer resembled my dress, the supports in the cake collapsed and I was left with the leaning tower of torte.  I grimaced as we cut into the cake for fear that it would topple on us, and wouldn't you know it, the bottom layer was chocolate.  Oh, and there was a violin, guitar and flute in my string quartet.  Yup.  You need to know what your vendors are actually capable of.  Make sure you check references, reviews and see examples of their previous work.
FOUR: First dance.
My groom had anxiety about just one part of the wedding, the first dance.  He is not naturally drawn or particularly comfortable on the dance floor, let alone in front of a crowd.  I, on the other hand, have a passion for dance and competed at an amateur level.  To make him more confident, we booked private dance lessons three times a week for three months.  The couple who taught us choreographed a traditional fox-trot combined with west-coast swing dance to Frank Sinatra's "The Way You Look Tonight."  We even had the band send us a copy of how they play it so that we would get the up-paced tempo correct.  By the time we were done with lessons, we knew it forward and backward.  On our wedding day, the band called us to the floor for our first dance together as husband and wife.  We went to the middle of the dance floor and the music started.  My new husband was dumbfounded.  The pace of the music was like a funeral dirge.  Together we stumbled through it and my poor husband's worse fears became a reality.  In hindsight, I should have stopped the music, talked with the band, and made a joke about re-starting the first dance.  My husband was so proud of what he learned, and it would have been such a joy for him to be successful, regardless, if I would have looked silly counting the band off.  If you don't like the way something is going on your wedding day, ask someone nicely to fix it.  Most vendors want to make your day as perfect as possible.
FIVE: Brunch.
The actual wedding day goes by so fast.  From the early morning hours of getting ready, to that walk down the aisle, through all the toasts and tears, first dance, and finally the joyous send off.  While you are enjoying yourself and the newness of being married, it really is nice to have a final opportunity to see your guests one more time.  I really regret not formally hosting a morning activity such as brunch for our guests who came out to our destination wedding.  We took over a small hotel and most guests were on property, but several of our guests met each other for the first time, so reconnecting again the next morning would have been fun for them and we would have had a relaxing, no-pressure morning with everyone.  It is fun to share experiences at the event, laugh about the silly things that went wrong or happened that we missed, and have a chance to make sure everyone knew how much we appreciated them being there for us.  Nowadays, with everyone's busy schedules, it is difficult to get people together for purely social events.  I don't think I would have done a fancy sit-down event, just something casual where people could come by and mingle at their leisure.   The guests who truly love you don't care about what you are serving, they just want to be part of your experience.  Experiences are the gifts that last a lifetime.
No matter how much you plan and sweat the details, something will inevitably go wrong.  Don't let it ruin your day.  You are the only one who will notice these tiny imperfections.  At the end of the day, if you are married, your day was a success!